Wade in the Water: Poems (Paperback)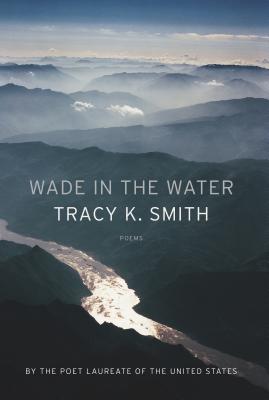 April 2018 Indie Next List
---
"In Wade in the Water, Smith masterfully makes herself into a medium through which the voices of other (forgotten) people can become poetry. 'I Will Tell You the Truth About This?' is a haunting and beautiful poem written using the letters and statements of African-Americans who enlisted as soldiers in the Civil War. Here, Smith is simultaneously the declarer and the creator of a space wherein others may be given room to declare. It is this balancing act that brings out the heart and beauty of Wade in the Water. The impersonal is made intimate, the world is made individual, and through it all, Smith guides us with true poetic sense. Wade in the Water is a necessary, beautiful book!"
— Eli Sorich, Magers & Quinn Booksellers, Minneapolis, MN
Description
---
Shortlisted for the T. S. Eliot Prize
Finalist for the Forward Prize for Best Collection

The extraordinary new poetry collection by Tracy K. Smith, the Poet Laureate of the United States
Even the men in black armor, the ones
Jangling handcuffs and keys, what else
Are they so buffered against, if not loves blade
Sizing up the hearts familiar meat?
We watch and grieve. We sleep, stir, eat.
Love: the heart sliced open, gutted, clean.
Love: naked almost in the everlasting street,
Skirt lifted by a different kind of breeze.
from Unrest in Baton Rouge
In Wade in the Water, Tracy K. Smith boldly ties Americas contemporary moment both to our nations fraught founding history and to a sense of the spirit, the everlasting. These are poems of sliding scale: some capture a flicker of song or memory; some collage an array of documents and voices; and some push past the known world into the haunted, the holy. Smiths signature voiceinquisitive, lyrical, and wryturns over what it means to be a citizen, a mother, and an artist in a culture arbitrated by wealth, men, and violence. Here, private utterance becomes part of a larger choral arrangement as the collection widens to include erasures of The Declaration of Independence and the correspondence between slave owners, a found poem comprised of evidence of corporate pollution and accounts of near-death experiences, a sequence of letters written by African Americans enlisted in the Civil War, and the survivors reports of recent immigrants and refugees. Wade in the Water is a potent and luminous book by one of Americas essential poets.
About the Author
---
Tracy K. Smith is the author of three previous poetry collections, including Life on Mars, winner of the Pulitzer Prize, and a memoir, Ordinary Light, which was a finalist for the National Book Award. She teaches at Princeton University.
Praise For…
---
Smiths new book is scorching in both its steady cognizance of Americas original racial sins . . . and apprehension about historys direction. . . . These historical poems have a homely, unvarnished sort of grace.The New York Times
The poems in Wade in the Water are full of memorable images nimbly put together by Smiths exquisite sense of timing and her feel for the kind of language appropriate to the poem.The New York Times Book Review
Smith brings great intelligence and sensitivity to her poems, leading readers deeper into other peoples storiesand ultimately into their own humanity.The Washington Post
Smiths poetry is an awakening itself.Vogue
In these poems, with both gentleness and severity, Smith generously accepts what is an unusually public burden for an American poet, bringing national strife home, and finding the global in the local.NPR.org
With formal precision and clarity, Smiths poems dance the boundaries between private and public, give voice to the voiceless, and shine with a resolute spiritual vision.San Francisco Chronicle
[Wade in the Water] considers the state of the union with characteristic grace. . . . Smith holds this chorus together quite beautifully, often embedding contrasting fragments of text and tone in classical forms and schemes.Harpers
Smith is the countrys poetic caretaker, calling both for collective reckoning and collective empathy.The Atlantic
Wade in the Water . . . deftly covers 250 years of the American experience, from the refugees plight to a companys toxic spill tothe complications of black motherhood.Mother Jones
In lines that are as lyrical as they are wise . . . Smith makes connections between the current state of American culture and its history.BuzzFeed
Deftly, Tracy K. Smiththe reigning poet laureate of the United Statesilluminates Americas generational wounds.New York Magazine
Tracy K. Smith presents a clear-eyed portrait of the present, reconsiders the past and offers love as an ethical response to injustice. . . . As Smith traverses time and tragedy, she returns to the idea that love is a radical and transformative force, one with a political and public function.Star Tribune (Minneapolis)
We are in good worlds with Smith leading the poetic charge, as Wade in the Water attests.The Millions
The poems in Wade in the Water arein classic Smith fashiongorgeously nuanced in music and in feeling and occasionally offbeat in their logic. . . . Smith lands on the power of art and its ability to pierce us suddenly / By pillars of heavy light.Poets.org
Majestic. . . . This is a formally varied, masterful collection from the nations poet laureate.BookPage
Bolstered by an array of sources, the poems gaze outward and observe with an incredibly perceptive eye. The past presses up against the present, and empathy hums consistently below as a driving force behind the collections explorations of religion, history, prejudice, and environmentalism.The Adroit Journal
Readers will be moved by this carefully crafted collection. It is entirely new and innovative.New York Journal of Books
Wade in the Water examines . . . injustice (political and personal) with sharp insight and telling detail. . . . While Smith repeatedly calls injustice and its perpetrators to account, her poems her poems also contain deep compassion and an insistence on hope.Shelf Awareness
Tracy K. Smith weaves together past and present, personal and political in ways that are at once urgent and timeless.The Arkansas International
On a craft level, these poems are impeccable. . . . I know brilliance when I read it and this book is brilliant.Roxane Gay, Goodreads

Poetry requires acts of exquisite selection and distillation that Smith, poet laureate of the United States, performs with virtuosity and passion throughout her profoundly affecting fourth collection. . . . The sacred and the malevolent are astutely juxtaposed in this beautifully formed, deeply delving, and caring volume.Booklist, starred review

For Smith, poetry is hospitable: accommodating whatever she is moved to write. Her work witnesses, protests and raises its own roof. . . . Smith emerges as a poet in charge of her own creation myth and a recorder of destructive realities.The Observer (UK)