The Thousand Crimes of Ming Tsu (Hardcover)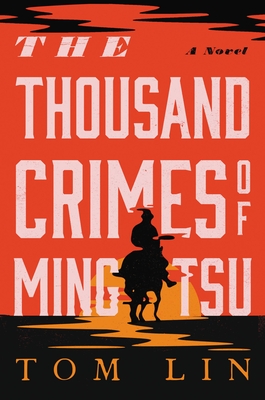 June 2021 Indie Next List
---
"A raucous romp through a nearly lawless post-Civil War American West. Ming Tsu's story is captivating and impossible to put down; the cast of characters is just too unique to forget or dismiss. A blood-crusted gem of a tale."
— Jamie Fiocco, Flyleaf Books, Chapel Hill, NC
Description
---
An astounding debut that reimagines the classic Western through the eyes of a Chinese American assassin on a quest to rescue his kidnapped wife and exact his revenge on her abductors, and "declares the arrival of an astonishing new voice" (Jonathan Lethem).

Orphaned young, Ming Tsu, the son of Chinese immigrants, is raised by the notorious leader of a California crime syndicate, who trains him to be his deadly enforcer. But when Ming falls in love with Ada, the daughter of a powerful railroad magnate, and the two elope, he seizes the opportunity to escape to a different life. Soon after, in a violent raid, the tycoon's henchmen kidnap Ada and conscript Ming into service for the Central Pacific Railroad.
 
Battered, heartbroken, and yet defiant, Ming partners with a blind clairvoyant known only as the prophet. Together the two set out to rescue his wife and to exact revenge on the men who destroyed Ming, aided by a troupe of magic-show performers, some with supernatural powers, whom they meet on the journey. Ming blazes his way across the West, settling old scores with a single-minded devotion that culminates in an explosive and unexpected finale.

Written with the violent ardor of Cormac McCarthy and the otherworldly inventiveness of Ted Chiang, The Thousand Crimes of Ming Tsu is at once a thriller, a romance, and a story of one man's quest for redemption in the face of a distinctly American brutality.

"In Tom Lin's novel, the atmosphere of Cormac McCarthy's West, or that of the Coen Brothers' True Grit, gives way to the phantasmagorical shades of Ray Bradbury, Charles Finney's The Circus of Dr. Lao, and Katherine Dunn's Geek Love. Yet The Thousand Crimes of Ming Tsu has a velocity and perspective all its own, and is a fierce new version of the Westward Dream." —Jonathan Lethem, author of Motherless Brooklyn
About the Author
---
Tom Lin was born in China and immigrated to the United States when he was four. A graduate of Pomona College, he is currently in the PhD program at the University of California, Davis. This is his first novel.
Praise For…
---
"Part revenge fantasy, part classic bloody tale of the Old West. In this book, things return—people, oceans, violence—but remembering is a choice and the body bears the cost... In this unforgiving landscape, which Lin vividly and meticulously describes in prose whose music is reminiscent of Cormac McCarthy's, even a rainstorm can take on mythical proportions."—
Chanelle Benz, New York Times Book Review
"Impressive… As a kind of redemptive imaginative act, Lin has created a poetic and cinematic story centered on a Chinese American sharpshooter."—
Jessie Zack, San Francisco Chronicle
"Eminently entertaining… There's a lot to love in this expansive debut novel from Tom Lin.
The Thousand Crimes of Ming Tsu
is a truly cinematic Western. Its vistas and action sequences are perfectly designed for fans of graphic novels and the big screen alike. Similarly, the body count is crafted for an audience that enjoys adrenaline's pulse in its ears. Lin's wordcraft is deft and painterly, whether he's describing a fight scene or a desert… an important, vivid story, with characters led through the landscape by the demands of its plot… I hope we see more of all these stories from Tom Lin in the future."—
Fran Wilde, NPR.org
"Enthralling… an odyssey that is vengeful, lyrical, and supernatural, flipping the script on atrocities committed against Asian Americans."—
Oprah Daily (Best Books of June)
"Infused with magic realism, Lin's beautifully imagined first novel is an extraordinary epic with page-turning, often cinematic action that transcends the parameters of genre fiction. A brilliant debut, impossible to put down."—
Michael Cart, Booklist (starred review)
"Lin displays remarkable skill in maneuvering his plot and characters… Ming is a unique figure. He's a murderer with a strange personal code… but he's also a score-settling outlaw worthy of True Grit… This is a major work that enlarges our view of the Wild West and marks Lin as a writer to watch."
—
Grace Lichtenstein, BookPage (starred review)
"Tom Lin's debut novel is a special pleasure. There's blood and humor, wit and wide knowledge, in his telling of this revenge odyssey that rambles across the vastness, harshness, and myriad dangers of the Old West. The nuanced prose is firm and evocative, and we have a gritty, luminous, and fantastic take on the era and the people. Ride this one hard, folks, and put it up wet."—
Daniel Woodrell, author of Winter's Bone
"In Tom Lin's novel, the atmosphere of Cormac McCarthy's West, or that of the Coen Brothers'
True Grit
, gives way to the phantasmagorical shades of Ray Bradbury, Charles Finney's
The Circus of Dr. Lao
, and Katherine Dunn's
Geek Love
. Yet
The Thousand Crimes of Ming Tsu
has a velocity and perspective all its own, and is a fierce new version of the Westward Dream. This is a superb novel that declares the arrival of an astonishing new voice."—
Jonathan Lethem, author of Motherless Brooklyn and The Feral Detective
"
The Thousand Crimes of Ming Tsu
whips through brutal American West landscapes and breathless battles as we follow Ming on his cinematic quest for justice."—
Ashley Wong, Sacramento Bee
"The prophet in Tom Lin's extraordinary novel refers to his friend Ming as a 'man out of bounds.' Likewise
The Thousand Crimes of Ming Tsu
defies the boundaries of genre, at times standing staunchly within a perfectly researched historical world, and then strolling nonchalantly past those barriers into the world of magic and haunted souls. It's a story that's both brilliantly vibrant and brutally dark."—
Elizabeth Crook, author of The Which Way Tree
"Lin creates a wild,
wild
west hero who, in the name of true love, embarks on an epic quest for gruesome revenge… With dexterous agility, Lin showcases Ming's multi-faceted identity… Ming's story of denial becomes Lin's ingenious assertion of his own Chinese American heritage, his fiction a literal projection of the Chinese American experience onto the page."—
Terry Hong, Shelf Awareness
"Considering the American West and the classic Western from a Chinese American perspective, Lin briskly and beautifully delivers a story that's at once thriller, romance, redemptive tale, historical, and deadly serious romp."
 —
Library Journal