The Dime (Betty Rhyzyk Series #1) (Mass Market)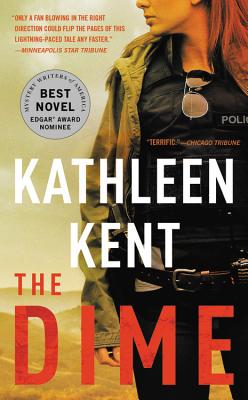 $7.99
Email or call for price.
Description
---
Brooklyn's toughest female detective takes on Dallas in this "violent, sexy, and completely absorbing" Edgar Award nominee, the first novel in the acclaimed Betty Rhyzyhk series (Kirkus Reviews).
 Dallas, Texas is not for the faint of heart. Good thing for Betty Rhyzyk she's from a family of take-no-prisoners Brooklyn police detectives. But her Big Apple wisdom will only get her so far when she relocates to The Big D, where Mexican drug cartels and cult leaders, deadbeat skells and society wives all battle for sunbaked turf. Betty is as tough as the best of them, but she's deeply shaken when her first investigation goes sideways. Battling a group of unruly subordinates, a persistent stalker, a formidable criminal organization, and an unsupportive girlfriend, the unbreakable Detective Betty Rhyzyk may be reaching her limit. Combining the colorful pyrotechnics of Breaking Bad with the best of the gritty crime genre, The Dime is Kathleen Kent's brilliant mystery debut and the launch of a sensational new series.

"Only a fan blowing in the right direction could flip the pages of this lightning-paced tale any faster." --Minneapolis Star Tribune
About the Author
---
Kathleen Kent is the author of the Edgar Award-nominated The Dime, as well as the bestselling historical novels The Heretic's Daughter, The Traitor's Wife, and The Outcasts. Kent lives in Dallas, TX.
Praise For…
---
One of the Best Books of the Year - Dallas Observer, BookRiot

"One of the most breathless, inventive, and be forewarned, violent suspense plots I've read in a long time."—Maureen Corrigan, NPR's Fresh Air

"Exciting [and] moving . . . Grisly but likable"—Tom Nolan, Wall Street Journal

"Terrific . . . Kent's own ability to avoid predictable outcomes and keep the reader on edge bodes well for future installments in this series."—Lloyd Sachs, Chicago Tribune

"The plot revolves around the Asian sex- and drug-trafficking trade run by the cutest little old lady you ever did see, but the broader appeal is Kent's offbeat humor, which pulls up reins just before it takes the story over a cliff."—Marilyn Stasio, New York Times Book Review

"Kathleen Kent finds the noir side of Dallas. . . . Betty Ryhzyk [is] a beguiling protagonist. . . . [She] brings freshness and new energy to the role. . . . There's no shortage of Pine Curtain gothic in this landscape of mangy dogs, religious nuts and violent meth-heads."—Doug J. Swanson, Dallas Morning News

"Gritty and gripping, explosive and emotional, Kathleen Kent's The Dime grabs you from its opening scene and never lets go. Kent tears off the glossy facade of Dallas to show us a dark underbelly of crime. A great start from an exciting new series."
—Jeff Abbott, New York Times bestselling author of The First Order

"As hard-to-forget as Kent's main character is, the breakout star [is] the city of Dallas."—Rachel Williams, Dallas Observer

"Kent knows her craft. The Dime's tight plotting and masterful suspense is no surprise."—Ginni Beam, D Magazine

"[Kent] explodes into the crime genre with a detective who has all the qualities that'll make her stand out from the crowd. . . . Betty is [a] kick-butt detective. . . . Kent's brilliant, sometimes-gentle and humorous observations humanize and set this book apart."—Barbara Clark, BookPage

"Outstanding . . . Kent never sacrifices robust characters, or biting humor, during scenes of brutal violence, which, though disturbing, are essential to the rich plot."—Publishers Weekly (starred boxed review)

"Violent, sexy, and completely absorbing. Kent's detective is Sam Spade reincarnated-as a brilliant, modern woman. . . . The mystery succeeds as both whodunit and as a deeper character-driven novel. Kent neatly balances the tough talk and high body count of a traditional hard-boiled detective novel, reminiscent of Raymond Chandler and Dashiell Hammett, with the modern strength of this complex, flawed, and interesting woman. . . . Every layer of this novel strikes the right note."—Kirkus Reviews (starred)

"Kent is an effective storyteller and an acute social observer, with a sharp eye for Texas-sized absurdities."—The Los Angeles Review of Books

"Perfect for the current time"—Flavorwire

"Betty is a terrific character . . . A worthy addition to the ranks of strong female detectives."—Booklist

"I loved The Dime. Betty is my hero. Smart, determined, and so unique. The writing is as smooth as Texas spring water and the story grabs you by the throat and drags you happily through a briar patch of surprise and excitement and leaves you exhausted under the Dallas skyline. More please!"
—Joe R. Lansdale, author of Honky Tonk Samurai

"[A] gritty series debut . . . This fast-paced, adrenaline-producing suspense novel will appeal to Karin Slaughter fans."—Library Journal

"In The Dime Kathleen Kent introduces an exciting new force in the crime thriller world: Detective Betty Rhyzk. You probably can't pronounce her last name but she doesn't give a shit; she'd more likely roundhouse kick you in the ear for your stupidity. Betty comes from a long line of battle-hardened NYC cops but when she dives into the criminal world of Dallas, Texas, Betty quickly realizes that she ain't in Brooklyn anymore. The tension escalates to a shattering, shocking conclusion that will take Betty to the very edge of what she can endure, physically and psychologically. Kent masterfully draws upon the rich tapestry of neo-noir Dallas, a city of grit, glitter, and guns, that hasn't had its proper treatment in contemporary crime fiction. Until now."
—Matthew Bondurant, author of The Wettest Country in the World

"Smart, gritty, and populated by a rogue's gallery of unforgettable characters, The Dime is relentless. As it races full-bore its way toward a climax that's truly creepy, the best you can do is hang on--and it's a hell of a ride."—Kelly Braffet, author of Save Yourself

"Kent has written a brilliant detective with hard-edges and heart while striking the perfect balance of humor, violence, action, and procedural."—Jamie Canaves, BookRiot

"Only a fan blowing in the right direction could flip the pages of this lightning-paced tale any faster. It may be her crime fiction debut, but Kathleen Kent writes with the hard-boiled confidence of a veteran....Betty is buff, brave, and believable. She is a terrific, fully-realized addition to her genre."—Minneapolis Star-Tribune